Thailand is so rich with tourist objects that must be visited. Besides Phuket and Bangkok, Koh Samui as the second largest island in Thailand with many interesting tourist attractions. Here are
most favorite attractions on Koh Samui.
Angthong National Marine Park
Angthong National Marine Park consists of 42 islands. This attraction is located in the west of Koh Samui. You can visit several islands, dive to see coral reefs and fish, enjoy beautiful white sand beaches, and sail using kayaks. Usually, there are many full-day travel packages to Angthong National Marine Park that you can choose at a fairly affordable price. If you visit this place, don't forget to book your stay at Cheweng Beach Resort, one of the best choices you have in Koh Samui.
Big Buddha
Big Buddha or Wat Phra Yai is a golden Buddha statue in a sitting position or a posture of Mara built-in 12 meters high. This statue was made in 1972 and became one of the popular tourist spots. Its large size makes this statue can be seen from a distance and become a landmark of Koh Samui.
Big Buddha is only about 3 Km from Samui International Airport and 7.5 Km from Chewing beach. Big Buddha has a spiritual charm and also offers beautiful views from the top of the hill. If you want to visit this place, you should dress properly and politely considering this place also serves as a place of worship.
Koh Tao
Koh Tao means turtle island. On this island, you can dive to see various sea creatures including turtles. Here, you can also enjoy the view of the beach with white sand. The white sand that surrounds the island covering an area of ​​21 Km2 blends beautifully with crystal clear seawater.
The island which was discovered in the 1980s now also equipped with many accommodations and restaurants. Therefore, the atmosphere at night is as beautiful as the scenery during the day. The island is far from the crowd, so it is suitable for vacation.
Wat Plai Laem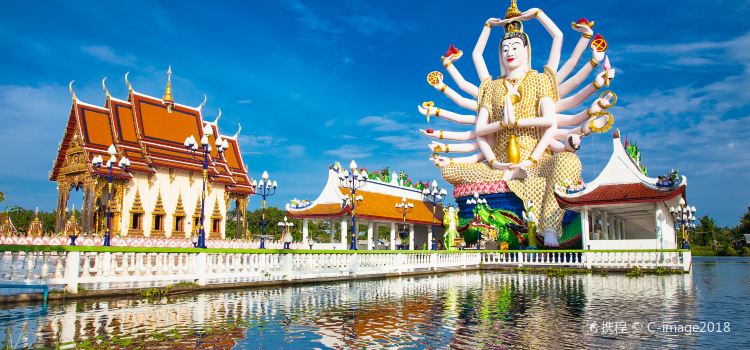 Wat Plai Laem is a Buddhist temple located close to the Big Buddha temple. At Wat Plai Laem, you can see a statue of the goddess of compassion and mercy, white Guanyin or Kwan Im with 18 hands. Wat Plai Laem Temple is surrounded by a lake full of fish. This temple is categorized as a new temple but with a design with many ancient belief decorations.
Namuang Waterfall
The beauty of Koh Samui is not only on the beaches. Besides the beach, you can also see two Namuang waterfalls. Namuang Waterfall first flows down into a pond. In this pond, you can soak and play in water to feel the freshness of the water. Whereas the second Namuang waterfall is smaller and can be reached with 30 minutes walk.